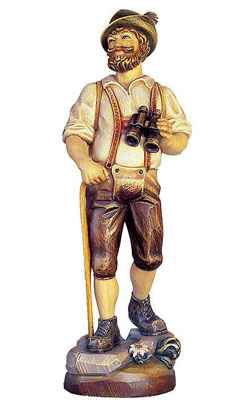 IMPRESSUM
Senoner Livio & C. s.n.c.
Str. Gherdeina, 17
I-39047 S. Cristina - VAL GARDENA(BZ)
Telefon: :
+39-0471 793591
Fax: :
+39-0471 793591
E-Mail :
info@lisewoodcarvings.com
Ust-IdNr. :IT 01410560211
Reg.Imprese BZ/01410560211
Verantwortlich für den Internetauftritt:
Senoner Livio
Alle Rechte vorbehalten. Internet und Vervielfältigung auf CD-DVD dürfen nur nach vorheriger Absprache erfolgen
Cookie Policy
WHAT IS A COOKIE
Cookies are small text files that are stored on the User's device when visiting a website. On each subsequent visit cookies are re-sent to the site that originated them (first-party cookies) or to another website that recognises them (third party cookies). Cookies are useful because they allow websites to identify the user's device. They have several functionalities, such as allowing the visitor to surf efficiently through pages, recalling bookmarked websites and, in general, improving the web browsing experience. Based on their function and purpose, cookies are grouped into technical cookies,
Technical cookies are essential cookies that allow visitors to display the website, use the features on the website and gain access to secure or registered areas. Disabling these cookies will mean that certain parts of the website can no longer be used for their intended purpose.
Profiling cookies have the purpose to provide a better user experience on the website, by suggesting content that corresponds to the user's preferences selected during navigation, based on viewed content and other user-related parameters. Users can choose to disable single cookies of the website by selecting the appropriate settings on their browser. In this case, users might not be able to use all features of the website.se, users might not be able to use all features of the website.
Third party coockies. The website uses external features or contains links to external websites, for the purpose to provide better integration with third-party websites of common use, and a better social experience within the website (i.e. Facebook, Google etc. sharing buttons). These features and links may require the use of third party cookies, for which the reader should refer to the corresponding owner's privacy policy
Our Website do not use profiling and only following technical cookies: "Session-ID" e "displayCookieConsent". Third party cookies: some cookies of Google.
How can you manage your cookie preferences?
Internet Explorer: http://windows.microsoft.com/en-us/windows7/how-to-manage-cookies-in-internet-explorer-9
Firefox: https://support.mozilla.org/en-US/kb/enable-and-disable-cookies-website-preferences
Google Chrome: https://support.google.com/chrome/answer/95647?hl=en&hlrm=en